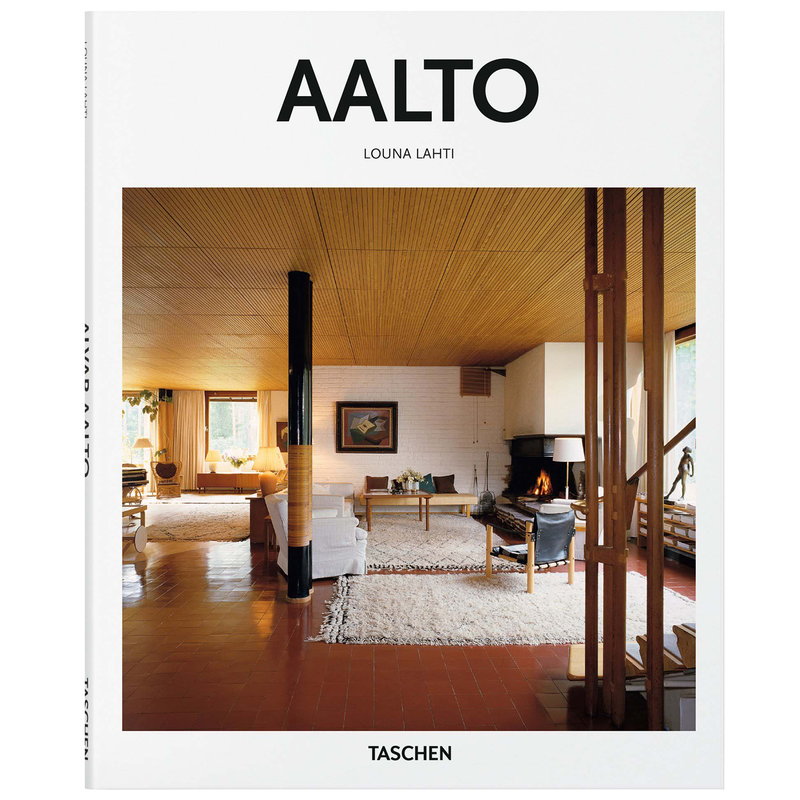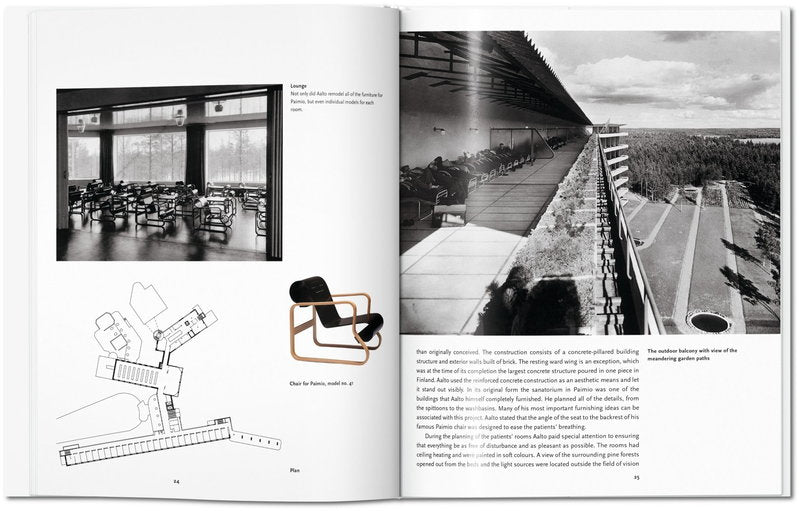 Marc Notes:
Finnish architect Alvar Aalto (1898-1976) was strongly influenced by both the landscape of his native country, as well as the political struggle over Finland's place within European culture. This title explores his life and work.

Publisher Marketing:
Alvar Aalto (1898-1976) made a unique modernist mark. Influenced by both the landscape and the political independence of his native Finland, he designed warm, curving, compassionate buildings, wholly set apart from the slick, mechanistic, geometric designs that characterized much contemporary European practice.
Whether a church, a villa, a sauna, or a public library, Aalto's organic structures tended to replace plaster and steel with brick and wood, often incorporating undulating, wave-like forms, which would also appear in his chair, glassware, and lamp designs. An adherent to detail, Aalto insisted upon the humanity of his work stating: "Modern architecture does not mean using immature new materials; the main thing is to work with materials towards a more human line."
Many of Aalto's public buildings such as Säynätsalo Town Hall, the lecture theatre at Otaniemi Technical University, the Helsinki National Pensions Institute and the Helsinki House of Culture may be seen as psychological as well as physical landmarks in the rebuilding of Finland after the ravages of war.
About the series
Born back in 1985, the Basic Art Series has evolved into the best-selling art book collection ever published. Each book in TASCHEN's Basic Architecture series features:
an introduction to the life and work of the architect
the major works in chronological order
information about the clients, architectural preconditions as well as construction problems and resolutions
a list of all the selected works and a map indicating the locations of the best and most famous buildings
approximately 120 illustrations (photographs, sketches, drafts, and plans)
Shipping & Returns
Shipping
Please allow up to 2 business days for processing your online/phone order. Please read our complete Shipping Policy Here.
Returns
Returns can be made within 7 business days of delivery date for exchange or store credit only.  Returns need to include a completed Return Authorization Form that's included in your shipment.  Items returned must be returned in brand new, un worn, un altered condition.  Please read our complete Return Policy Here.
About Us
Lifestyle and comfort are at the core of our shop, and we pride ourselves in sourcing our men's, women's, and non-gendered clothing from local makers and national brands who are just as committed to care in craft and responsible production as we are. Our lines focus on quality, small-batch productions that come from real people—independent designers supporting positive change and using their platforms for good. Good, right?
Secure transactions
Transactions are handled with bank-grade security.
Simple checkout
Our secure checkout is quick and easy to use.
Get in touch
Have questions? Get in touch with us at any time.