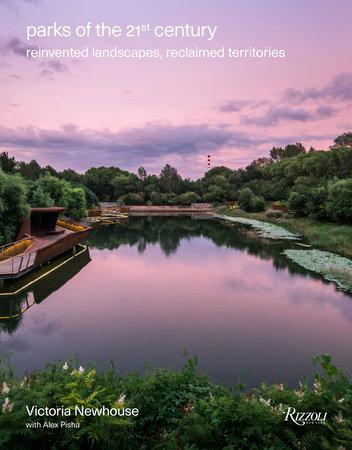 Parks of the 21st Century
We are in the midst of a worldwide golden age of park creation, and featured here are powerfully telling examples at the forefront of this renaissance.
Parks are essential to our well-being; this has never been clearer than it is today, and a recent surge of park development offers us much to celebrate. Parks of the 21st Century presents 52 parks in the U.S., Mexico, Canada, Europe, and China that have turned despoiled and polluted land (including former factories, railroads, and industrial waterfronts) into beneficial landscapes.
Landscape architects have been referred to as "the first environmentalists," and Parks of the 21st Century shows how parks are being designed as proactive, dynamic green spaces. The High Line in New York is an early example of how an obsolete railroad could be transformed. Opened in 2009, it now attracts nearly 8 million visitors a year. In addition to providing public open space, these renewed landscapes offer economic revitalization and large-scale environmental improvement. Among the parks featured in this book are designs by well-known professionals such as James Corner Field Operations, Michael Van Valkenburgh Associates, Kongjian Yu/Turenscape, and Catherine Mosbach.
Parks of the 21st Century
Shipping & Returns
Shipping
Please allow up to 2 business days for processing your online/phone order. Please read our complete Shipping Policy Here.
Returns
Returns can be made within 7 business days of delivery date for exchange or store credit only.  Returns need to include a completed Return Authorization Form that's included in your shipment.  Items returned must be returned in brand new, un worn, un altered condition.  Please read our complete Return Policy Here.
About Us
Lifestyle and comfort are at the core of our shop, and we pride ourselves in sourcing our men's, women's, and non-gendered clothing from local makers and national brands who are just as committed to care in craft and responsible production as we are. Our lines focus on quality, small-batch productions that come from real people—independent designers supporting positive change and using their platforms for good. Good, right?
Secure transactions
Transactions are handled with bank-grade security.
Simple checkout
Our secure checkout is quick and easy to use.
Get in touch
Have questions? Get in touch with us at any time.