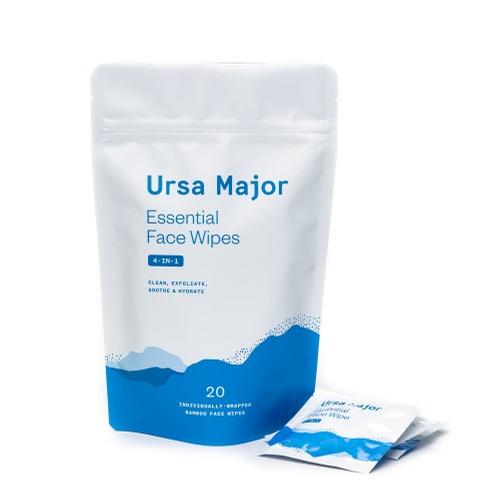 Revitalize Your Skin
These award-winning, individually-wrapped bamboo face wipes are the ultimate skin care multi-taskers. Infused with a generous dose of our 4-in-1 Essential Face Tonic formula, they clean, exfoliate, soothe and hydrate - leaving your skin feeling refreshed, firm and alive.
Removes oil and grime without stripping
skin of moisture
Exfoliates dead skin, brightens and clarifies (AHA/BHA complex)
Soothes and hydrates (no shine or sticky residue)
Works great for all skin types
Biodegradable and compostable substrate
Same formula as our 4-in-1 Essential Face Tonicin a convenient, on-the-go format
Aroma: Refreshing medicinal brew spiked with orange, fir and lavender.
Hero Ingredients
Aloe
Soothes and hydrates
Sugarcane
Natural source of glycolic acid (alpha hydroxy acid); brightens and conditions skin
Birch Sap
Reduces the appearance of redness and uneven skin tone
Green Tea
Rich in antioxidants to promote healthy skin
Willow Bark
Natural source of beta hydroxy acid; gently exfoliates and soothes skin
Sodium Hyaluronate
Helps skin retain moisture to reduce the appearance of fine lines and wrinkles
Shipping & Returns
Shipping
Please allow up to 2 business days for processing your online/phone order. Please read our complete Shipping Policy Here.
Returns
Returns can be made within 7 business days of delivery date for exchange or store credit only.  Returns need to include a completed Return Authorization Form that's included in your shipment.  Items returned must be returned in brand new, un worn, un altered condition.  Please read our complete Return Policy Here.
About Us
Lifestyle and comfort are at the core of our shop, and we pride ourselves in sourcing our men's, women's, and non-gendered clothing from local makers and national brands who are just as committed to care in craft and responsible production as we are. Our lines focus on quality, small-batch productions that come from real people—independent designers supporting positive change and using their platforms for good. Good, right?
Secure transactions
Transactions are handled with bank-grade security.
Simple checkout
Our secure checkout is quick and easy to use.
Get in touch
Have questions? Get in touch with us at any time.